electrical accessories
Сompany offer:
▪ Brass Neutral Bar
▪ Brass Earth Bar
▪ Brass Metering Current Terminals & Potential Terminals
▪ Brass PCB Connector Block
▪ Brass Switchgear & Switches Terminals
▪ Brass Electrical Plug Pins, Brass Socket Pins
▪ Brass Micro MCB, MCCB, ELCBs, Etc Pins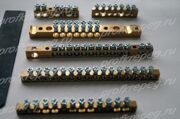 Brass Terminal Blocks are used as accessories in Panel Boards & Electrical Wiring Boards. Terminal Blocks are required by various industries like Electrical, Electronics & Tecommunications. It is a considered as a backbone in Building Circuit Protections such as MCB, Switchgears, Circuit breaker, RCD etc. Panel Board (Distribution Board) comprising of copper bus bars, brass neutral links, and earth links to facilitate effective distribution of current.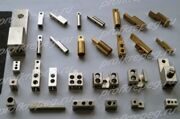 It incorporates safety devices such as MCBs, ELCBs and Isolators, which serves to protect the installation. Terminal Blocks are very crucial components in every application of its nature. It plays major role in Isolation of Electric equipment & clearing faulty downstream, by means of Switchgear and preventing short circuit & protecting electric circuit from damage caused. By overload, in the form of Circuit breaker & so on.
Because we understand this criticality, we are committed to deliver high quality Brass Neutrals Links & Bars as per International Standards & Specifications, at loyal price.

Material:
▪ Free Cutting Brass IS 319 type (i) or
▪ Free Cutting Brass as per BS 249 type (i) or

▪ High Grade Free Cutting Brass or
▪ Any special Brass Material Composition as per customers requirement

Sizes: As per customer Drawings & specification or Samples.

Finish:

▪ Natural
▪ Nickle Plated
▪ Tin Plated or
▪ Any type of Coating As Per Customer Specification

Special Features of Brass Electrical Accessories: Available as per the customer specifications and designs

Brass Neutral & Earth Bar Up to 1 meter, can be Developed and Supplied Exactly As per Customer Drawings, Design, Specifications, Samples & Requirement

Any kind of brass electrical accessories can be developed and supplied exactly as per customer specifications.